Strengthening the Fight Against Hunger in Latin American Coffee Communities
Coffee | 8 min read
There are some problems so big that you could write volumes about what is wrong.
Take hunger, for example. An estimated 820 million people around the world cannot guarantee they will have food on their table at their next meal.

The United Nations World Food Programme reported in early 2021 that in just the past two years, hunger in El Salvador, Guatemala, Honduras, and Nicaragua increased almost fourfold, and severe weather plus COVID-19 accelerated the rate of hunger around the globe.

You could write volumes. Janice Nadworny chooses instead to sum it up in one sentence:

I think most people don't understand that farmers don't have enough to eat."

- Janice Nadworny, Food 4 Farmers

Co-Founder and Development Director

How could a farmer not have enough food? Janice's organization, Food 4 Farmers, works to identify the root causes of this problem and--most important-- develop solutions.

Food 4 Farmers is a mission-based organization that partners with Latin American coffee cooperatives and community-based organizations to strengthen local food systems. The organization is currently working in Mexico, Nicaragua, Guatemala and Colombia.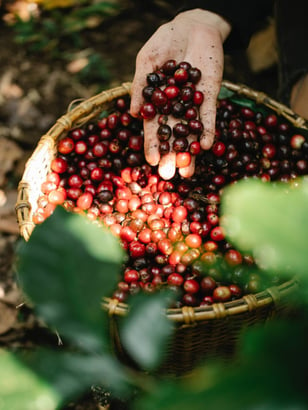 Janice explains that farmers producing more have found themselves with less, as they increase productivity of a single-income crop like coffee or cacao, hoping the commodity will pay the bills. Yet they cannot eat the crop, they haven't set aside land to grow anything else, and they are at the mercy of the markets for their cash crop. On top of that, Food 4 Farmers says, food costs have increased by as much as 68 percent, while coffee prices have decreased by nearly 30 percent over the past decade.

The scenario becomes even worse during the "lean" season--or the period after income from the coffee harvest runs out, and before the next harvest begins. Food 4 Farmers says this food gap means the farming families they work with experience food insecurity between two and eight months of every year. Put another way, that means many people spend a larger part of the year worried about hunger than they spend confident they have enough to eat.

You could speak volumes about that problem, too. Janice says,
Why are they growing cash crops instead of food?' Because people need money."
- Janice Nadworny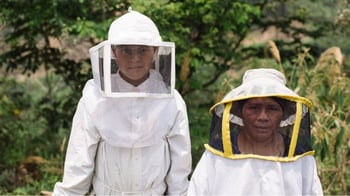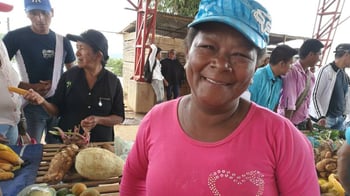 Food 4 Farmers helps farmers have more choices and control over how they want to become more food secure. Each region, each community, and each family is different, so approaches range from beekeeping to school gardens, from farmers markets to seed saving, all reflecting the needs and culture of each community partner. Executive director Alyson Welch brings a career of managing international development projects to the organization, and has a fundamental belief in Food 4 Farmer's approach. She says, "We are committed to sustainable solutions that are community driven."

Our approach is centered on partnerships with cooperatives and local organizations that are anchored in each community where we work"
- Alyson Welch, Food 4 Farmers Executive Director
Alyson says success on the ground comes thanks to these local partnerships. Before starting a new program, Food 4 Farmers researches a community to ensure that the cooperative leadership is committed to a sustainable solution to food insecurity. Results show up in statistics—such as 43,735 people represented by co-op partners, and a 33 percent reduction in the months of food insecurity at Colombian partner Nuevo Futuro Association.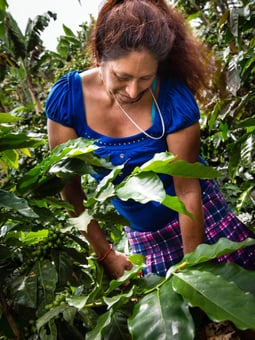 Results also show up in stories, such as a partnership with the SOPPEXCCA coffee cooperative in Nicaragua, launched in 2011. One strategy was to create an organic farmers market run by women coffee farmers. Women learned how to grow organically and start their own home gardens, while receiving training on small business skills to strengthen marketing, customer service and financial expertise. The 36 women participating now have organic food to eat and sell. The surrounding community of 130,000 people has new access to fresh, locally grown organic food. Fifteen more women are in training to join the program, and 20 more will join in 2022. Alyson says there are other positive consequences as well. She explains, "Women at the SOPPEXCCA market are using their earnings to send their daughters to university. Their daughters are often the first in the family to attend college. Women are investing in their families, and providing greater opportunity for their children."

At the end of the day, she says, "Women farmers are deciding what's best for them and their families, and that's the ultimate goal."

Alyson says as she sees farmers cultivating hopes for the future, she is energized to build on Food 4 Farmers' foundation of positive change for farming families.

Every day there's a new study on the serious threat of climate change to agricultural production and food security. We have already seen the devastating impact of severe weather in Central America--hurricanes, combined with increased droughts and rising temperatures throughout the region have impacted the livelihoods of thousands of farmers. We need to act collectively -- no one can do it alone."
- Alyson Welch, Food 4 Farmers Executive Director
In October 2021, Food 4 Farmers and mission-based GrainPro, Inc. announced a strategic partnership to address food security in Latin American coffee-growing communities. GrainPro manufactures post-harvest solutions that help improve the quality of life for farmers by organically protecting their commodities against food losses.

The partnership will include annual financial support from GrainPro and tap into the leadership of both organizations to drive sustainable change.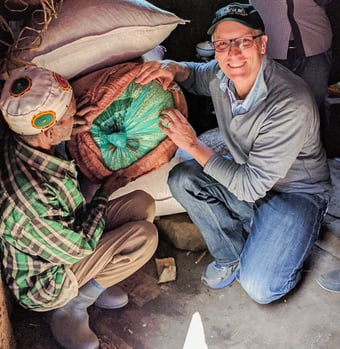 "Food 4 Farmers understands that the hunger season is a chronic experience for millions of coffee farmers and their families in Latin America," says Jordan Dey, GrainPro's CEO. "Solving this challenge is the key to healthy livelihoods for those hardworking families."

Janice envisions more opportunities to grow the impact of Food 4 Farmers' work through their new partnership with GrainPro, which leverages Food 4 Farmers' focus on the pre-harvest part of the farming cycle, and GrainPro's post-harvest solutions.

Janice says, "Partnering with GrainPro, whose mission is so closely aligned with our own, and whose work on the ground has already reached a huge number of farming families, is an incredibly exciting prospect for Food 4 Farmers."

Alyson agrees. She says, "It's committed partners like the people at GrainPro, who are working to make positive change, that will make a difference for coffee farmers and their communities."

The UN Food and Agriculture organization estimates 2.3 billion people around the globe face lack of access to food at least occasionally. That number speaks volumes about food insecurity. GrainPro and Food 4 Farmers believe there is opportunity to write a new, more hopeful chapter by working together and collaborating with rural communities so small-scale farmers can feed the world – and their families.