How a Kenyan Mother Cooked Up a Better Future
Maize | 5 min read
If you want to make ugali, a porridge staple eaten almost daily in Kenya, you need just two ingredients: water and maize flour. Yet Dorcas Jepkorir, a smallholder farmer and mother of three in the West Pokot county in the Rift Valley region of Kenya, knows good ugali is more complicated than the recipe suggests. The flavor changes based on the quality of the grain, and for years, Dorcas says, the quality of ugali she served wasn't always as high as she wanted for her family.

Here was the problem: she grew and harvested good quality maize as part of the crops she grew on her five-acre piece of land in West Pokot. Yet after the harvest, as Dorcas stored the grain to use as needed, she faced an almost impossible storage challenge - watch as insect infestation destroyed the quality and quantity of her grain, or use toxic chemicals which solved the insect problem but changed the smell and taste of her grain. She reluctantly decided to use pesticides, until the day she discovered a third option which changed the way she stored and fed her family.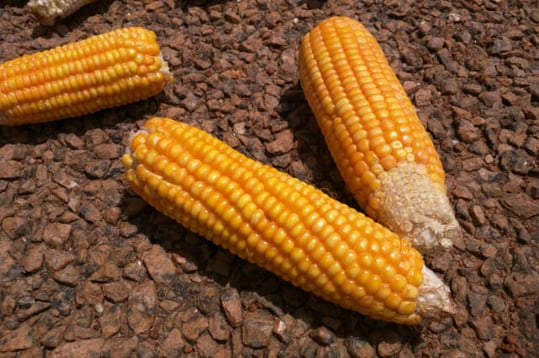 It happened by chance in December 2020. Dorcas went to an Agro-dealer in West Pokot County looking to buy more pesticide to preserve her grains. When she arrived, she met Geoffrey Krop Toung'ole, a GrainPro sales promoter for the North Rift Region who was visiting the business. Geoffrey introduced Dorcas to the GrainPro Bag Farm, which are hermetic storage bags designed for on-farm use. He showed her how they could protect against insect infestation without using pesticides, but by modifying the atmosphere inside the GrainPro Bags. Dorcas was so intrigued that she agreed to try ten GrainPro Bags. One week later she ordered one hundred more. The vast majority of bags store her maize; a few store beans. The reason for the order, she says, was the improvement of her ugali, which tasted sweeter and smelled fresh when made with maize stored in the GrainPro Bags.
Geoffrey Krop Toung'ole says his goal is to educate more people like Dorca on how to safely preserve their dry agricultural crops post-harvest. There are many opportunities in West Pokot county, where about 80 percent of the income comes from agricultural activities. In fact, Dorcas comes from a long line of farmers and lists three reasons her work in the field matters to her: it is something she has done since she was a young girl, it is something she does every day, and it is a source of food and income for her family.
Farming is also something tied into almost everything she does. When she spoke to us by Zoom from her farm in a village of about 150 people, her words were sometimes interrupted by crowing roosters.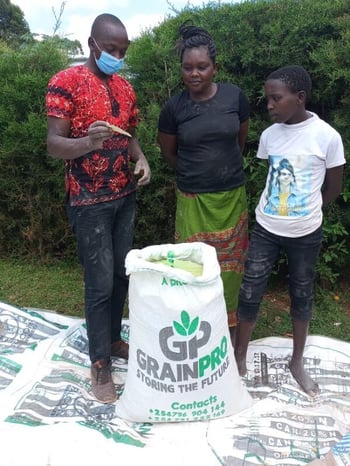 Dorcas honors tradition in agriculture, yet she is also a part of a community group that promotes economic opportunities through innovation. Dorcas says though she has only used GrainPro's hermetically sealed bags for a few months, she has stopped using chemicals to preserve her grain harvest.
What's more, Dorcas has already encouraged her friends to use GrainPro's hermetic bags after the next harvest, and one day she hopes to train others to see and use the technology she has embraced. She says she would rather invest 250 hard-earned Kenyan shillings in a reusable hermetic storage bag than in chemicals. The real payoff—she says—is cooking with her milled maize, which has no chemicals, no insects and more nutritional value. It is simple peace of mind to go along with the simple recipe which helps sustain Dorcas and her family each day.