Storing the Future: A Conversation With GrainPro Founder Laurence Simon
Hermetic | 7 min read
Iam passionately devoted to the idea that it is not just about a company selling product. It is about going in and understanding the problems people have with storage of their harvests."- Laurence Simon, GrainPro Founder
There are short questions you can ask—such as, "How many people are hungry in this world?"— which seem to have short answers:
Up to 811 million people do not have enough food, according to the UN World Food Programme (WFP).


Nearly 45 million people live on the brink of famine.


19 percent more people in 2021 lived in food insecurity crisis than the year before, and factors like the COVID pandemic, continued climate change, and the Russian invasion of Ukraine will make food insecurity an even larger problem in 2022.
But while bullet points and statistics require just seconds to outline the problem of hunger, working to solve the problem requires a much longer commitment.
In the case of GrainPro's Founder Dr. Laurence Simon, problem-solving has been a lifelong commitment to international development. Simon says, "I think the strong desire I have had is to try to make some small contribution to the relief for suffering. But development is a broad area, and so relief of suffering isn't just bringing food or disaster relief. It is helping to build capacity to solve the problems that keep people poor and hungry." As a geographer, he knew that these problems not only impacted human development and wellbeing but also environmental sustainability.
Laurence Simon is a Professor of International Development and Director of the Center for Global Development and Sustainability at Brandeis University.
Simon's commitment has taken him from classrooms to boardrooms with work in dozens of countries along the way. He is a Brandeis University Professor of International Development and Director of the Center for Global Development and Sustainability who has worked with Oxfam, the United Nations Development Programme, the World Bank, and has served as the senior advisor on global poverty to the executive director of the Google Foundation. In 1984, he founded the American Jewish World Service (AJWS), where a trip to Israel led to something which would change Simon's career and change the lives of smallholder farmers around the world.

"It was absolutely astounding to me." - Laurence Simon

On Simon's trip, he met Israeli scientists Drs. Shlomo Navarro and Jonathan Donahaye, who introduced a revolutionary organic grain storage method where they could store grain for years with zero losses. Simon says, "They had developed a hermetic material that blocked gas penetration and was being used for large bulk silos and even in giant trenches lined and covered with it."

Essentially, they were using the same principle of hermetic storage found by archeologists who had unearthed ancient buried clay vessels that still held grain.

Simon says he was searching for appropriate technologies that could be used in developing countries and in poor areas without electricity. "I was especially jubilant that the hermetic method eliminates chemical insecticides that were poisoning small farmers in their attempts to safely store their harvests," he says.

The technology was in the material.

The potential was in what was yet to come, and that required more problem-solving with the scientists to be sure that their technology could be adapted to developing countries and put through rigorous field trials. Simon traveled with Drs. Navarro and Donahaye into rural areas of a dozen countries in Sub-Saharan Africa and South Asia to assess grain storage problems and establish field trials with governments, UN agencies, and local non-governmental farmer organizations. He explains, "We examined the problems confronting the UN World Food Programme due to the lack of temporary storage for emergency commodities coming through Port Massawa in Eritrea and losses during inland transport in Mozambique. We consulted the UN High Commission for Refugees and organizations such as Lutheran World Relief that had problems with grain bags so infested with insects that they could not at first believe that the new hermetic method would work."

Field trials that involved small farmers sought to minimize risk by covering any losses. Simon says, "If you fail, you have your ticket back home. But they have lost their household income for much of the year." The trials were successful and reinforced in his mind a guiding principle for technology transfer: understand and respect the vulnerabilities and risks as understood by farmers or relief and development organizations.

Simon and his team envisioned the future for the technology including scaling up for national buffer stocks and scaling down for individual farmers.

The work led Simon to start an NGO called Grain Protection International for more research and development. Then one day, he got a call from a disaster mitigation specialist who said:

"We have a huge problem here which your technology can help."

The call came from Fred Cuny, an old friend who was working for the US Office of Foreign Disaster Assistance and wanted to order more than a dozen of the bulk grain storage silos for an international relief project. The problem was there was no inventory and manufacturing in Israel would take a couple of months. Laurence Simon says Cuny told him, it was time to start a company that could do both R&D and manufacturing. "I decided he was right, and we could do it," says Simon. "If we did it our way, it would be a different kind of commercial company."

It was the birth of GrainPro, which has grown from its start in 1992 to a leading global sustainable company specializing in Ultra Hermetic™ technology. GrainPro has partnerships in 115 distinct locations around the world, with a commitment to positively impact the lives of seven million smallholder farmers by 2024.

Laurence Simon says, "Building a world market and building a market for new technology is tough work. I am very proud GrainPro has survived and thrived."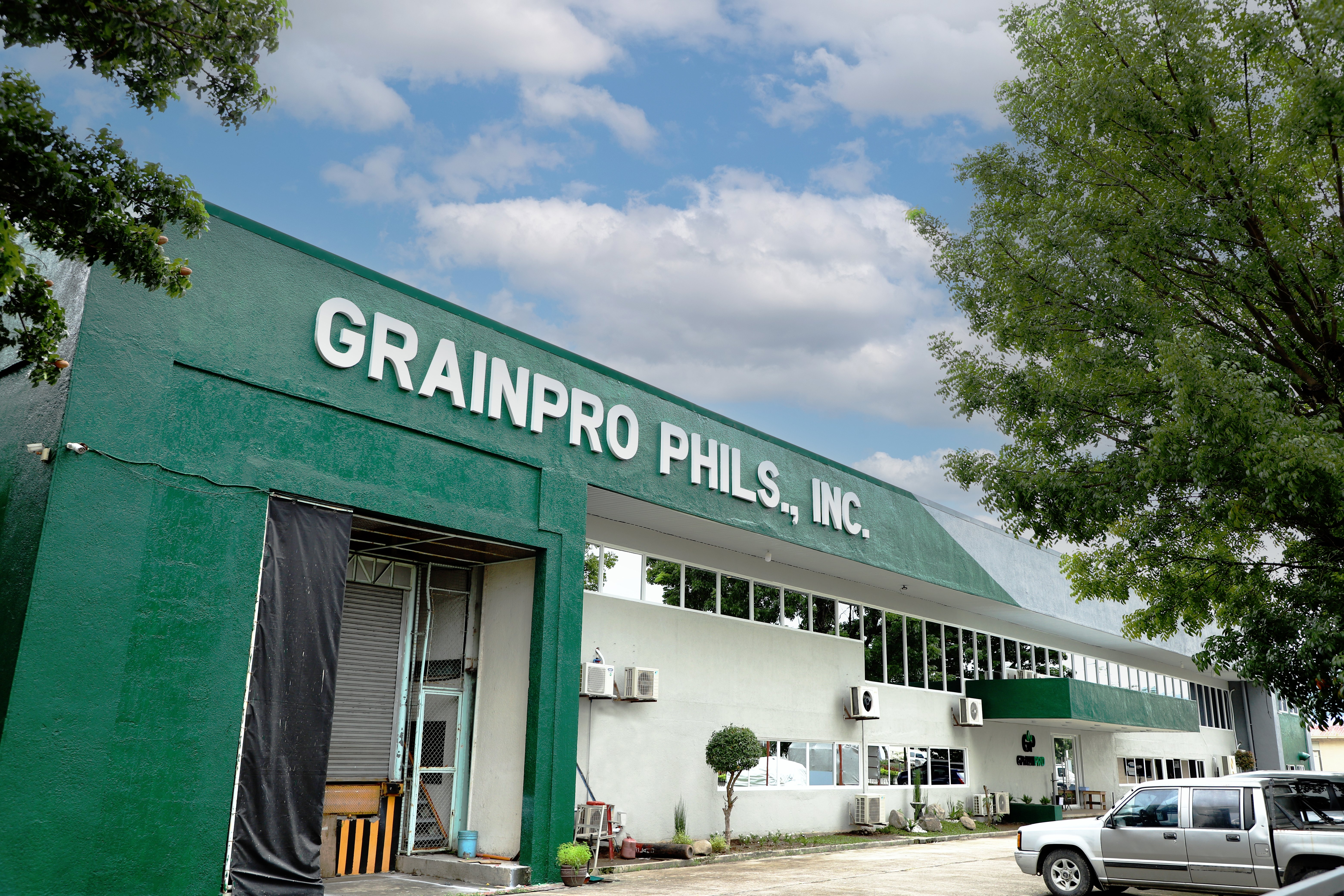 Global Services and Production (GSAP) Office, located in Subic Bay, Philippines
How many people are hungry in the world? Tens of millions. Each one too many. Fixing that will take time, yet thanks to Laurence Simon's vision, GrainPro is committed to being one of the problem-solvers. As Simon says, "A lot of companies profess all these great objectives for their company. I think GrainPro lives it. It is doing good. It should be easier and safer to store and transport a harvest than to grow it. Safe storage helps to protect a grower's income so there is, quite literally, more food on the table, their children in school, and a healthier environment without pesticides".
---
News You Can Use
Professor Laurence Simon's 4 E's
Empathy: We go beyond pity to identify with the fate of people as if they were our own parents and children.
Examination: We need to understand the underlying causes of people's suffering so our solutions are effective and sustainable.
Ethics: We need to examine that our solutions are not a false kind of charity or purely self-interested but are addressing our own possible involvement in the causes of their suffering.
Emancipation: We need to direct our efforts toward supporting people who are mired in preventable suffering because genuine help must lead to social justice and human dignity.
---
Check out more stories from the field here ➜