A Win in Productivity: GrainPro PH's Journey
The recently concluded National Productivity Olympics affirmed the strength and effectiveness of GrainPro's dedication to its employees.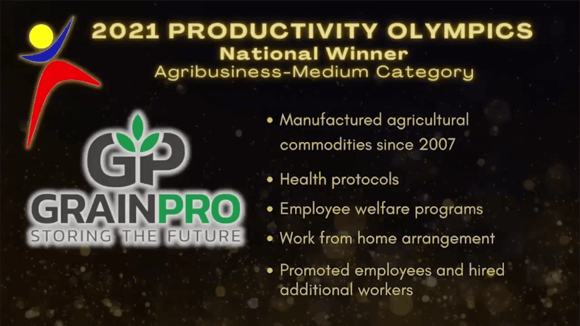 GrainPro Philippines' efforts to take care of its employees while creating an open and collaborative work environment was recognized and the National Wages & Productivity Commission-Regional Tripartite Wages and Productivity Board of Central Luzon declared the company as the National Winner in the Agri-business Medium Category.
A total of 150 companies from all over the country participated in Regional screenings held from April to July 2021. In Central Luzon, GrainPro and one other company qualified for the National competition, where only 9 winners were selected out of 30 finalists.

The Productivity Olympics, which culminated last October 21, 2021, is a biennial competition that seeks to showcase best productivity programs and practices of micro, small, and medium enterprises (MSMEs) in the agribusiness, service, and industry sectors. With this year's theme Bounce Back Better, the competition seeks to recognize MSMEs that showed resilience and business continuity and implemented employee engagement and job preservation programs amid the Covid-19 pandemic.
In line with this theme, GrainPro showcased how to foster a strong employee-employer relationship especially during difficulty. Instead of following the norm of laying off employees during the pandemic, GrainPro not only retained people but also strengthened its workforce by hiring additional employees. For existing employees, the yearly pay increase continued as was customary before the pandemic.

At the start of the pandemic, GrainPro quickly restructured its working set-up, allowing office employees to work from home to ensure their safety. For production workers, two teams were alternately housed within the factory to guarantee business continuity. Through strict and thorough health guidelines, these employees remained safe and were able to keep performing their duties. They were also given additional pay as compensation for being away from their homes during this period.

Along with that, the company also provided vitamins, hygiene kits, face masks, and other material support to bolster overall health in the company.

GrainPro showed concern for the mental health of their employees as well by encouraging open dialogue and offering support to those who might be struggling. Webinars on mental health care were also offered.

Headed by the HR Department, the company prepared all the requirements to participate in the National Productivity Olympics. All other departments were also involved and through diligent teamwork, GrainPro was able to proudly exhibit its great company culture and what it takes to be resilient and productive through this trying time.
An awarding ceremony was also conducted last November 11, 2021 in the Subic Bay Freeport Zone. GrainPro was given a check for PHP150,000.00 (close to USD3,000.00) as well as a plaque. Members of the GP HR Department, COO Hazel Valera, and CEO Patrick Plijter were present to receive the awards. During his acceptance speech, Plijter said that "despite the pandemic, this has been our best year so far." This shows how creativity and passion help GrainPro thrive and grow in spite of obstacles.

Congratulations, GrainPro Family!